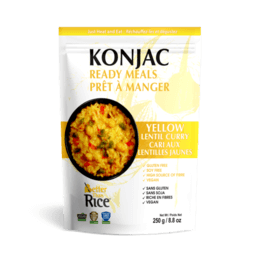 Konjac Ready Meals Yellow Lentil Curry 250g
If you're looking for a healthy and convenient low-calorie alternative to regular noodles and rice - try our Konjac Ready Meals! Konjac is a low calorie, high fibre root vegetable that has been eaten in Japan for centuries.
Our Konjac Noodles and Rice have a very neutral taste, taking on the flavour of your favourite sauces. They are made without wheat or soy using organic konjac, which is naturally free from gluten, carbs, fat, sodium and sugar.
Estimated delivery: between 1-2 days in Ontario/Quebec and 1-4 days Canada-wide