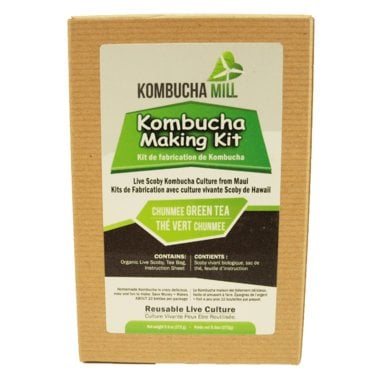 Kombucha Mill Kombucha Making Kit- Green Tea
Create your own Kombucha at home with Kombucha Mill Kombucha Making Kit. Both delicious and packed full of health benefits and not to mention, fun and easy enough to do at home with simple instructions to follow!

Features:
Live Scoby culture
Makes 10 bottles of Kombucha in 1 kit
Easy to use and fun to make
A perfect gift
Kit includes: Live Scoby Kombucha Culture, large high quality organic tea bag and instruction sheet.
Directions:
Boil water and use enclosed tea bag to make 1 gallon of tea, steeping 3-5 minutes
Add 1 cup of sugar and stir
Let cool to room temperature
Add Live Kombucha Culture and cover with a light cloth held in place with a rubber band or string
Store in a warm place
Drink it when you like the taste (Usually 14-21 days)
Ingredients: Water, Organic Kombucha Culture, Organic Sugar, Organic Tea.
Estimated delivery: between 1-2 days in Ontario/Quebec and 1-4 days Canada-wide