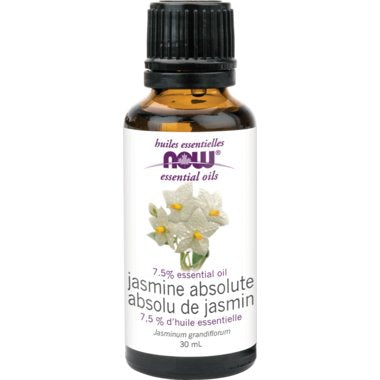 NOW Jasmine Absolute 7.5% 30ml
NOW Essential Oils Jasmine Oil Blend is an exquisite blend of essential jasmine oil, set in a prediluted base of natural, odourless Grape Seed Oil. Jasmine is a favourite among many perfume makers on account of its sweet, fragrant aroma. NOW Jasmine Absolute Oil is a 100% Natural blend, and is carefully extracted from jasmine flowers.

Features:
7.5% Jasmine Absolute Oil, Jasminum grandiflorum
Aroma: Warm, sweet floral.
Attributes: Romantic, relaxing, calming.
Extraction Method: Solvent Extracted from jasmine flowers.
Purity Tested/Quality Assured
Directions: For fragrance purposes. This blend is already prediluted and ready for use. Please consult an essential oil book or other professional reference source for suggested uses.

Ingredients: Pure jasmine absolute (Jasminum grandiflorum) oil in a base of pure grapeseed oil.
Estimated delivery: between 1-2 days in Ontario/Quebec and 1-4 days Canada-wide