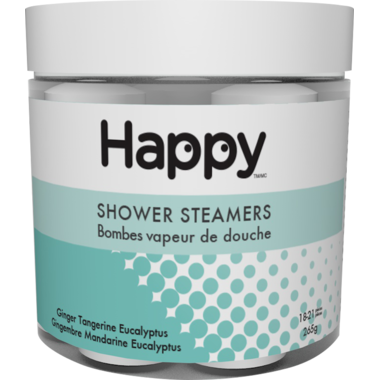 Happy Shower Steamers - Ginger Tangerine Eucalyptus 20 pc
Transform your everyday shower into a sensory escape. Create an experience with their Ginger Tangerine Eucalyptus Shower Steamers.

Directions: Place 1-2 tabs, or more for larger or unenclosed shower stalls, on the shower floor or ledge and wet with hot shower stream. Then place away from the full stream.
Features:
Shower Steamers are handmade with all-natural ingredients in small batches in Canada.
Approximately 18-21 pieces per jar.
Ingredients: Baking soda, citric acid, castille, essential oils (tangerine, eucalyptus, peppermint, ginger), menthol
Estimated delivery: between 1-2 days in Ontario/Quebec and 1-4 days Canada-wide