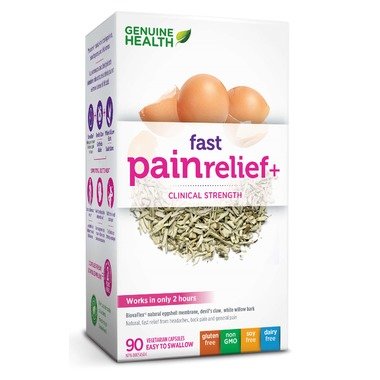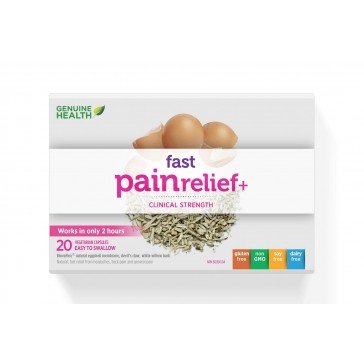 Introducing fast pain relief+, the latest all-natural, clinical strength supplement for fast relief of acute back pain and prevention of chronic flare-ups.

Made with the unique combination of Natural Eggshell Membrane, Devil's Claw and White Willow Bark, fast pain relief+ gives you the fastest, most targeted and effective way to manage your back pain.

Benefits of taking fast pain relief+ include:
Pain relief in as little as 2 hours from the natural anti-inflammatory ingredient, White Willow Bark
Targets acute pain and when taken daily can be used to prevent chronic flare-ups
Non-drowsy, with no negative side effects reported
Research proven ingredients in research-proven dosages offering clinical strength support for back pain relief
About the robust ingredients found in fast pain relief+:
Clinical research assessing the effect of

Devil's claw

in osteoarthritis pain or lower back pain in adults found evidence supporting daily use of Devil's Claw extract for acute back pain.
Derived from egg shells,

Natural Eggshell Membrane

feeds your body all essential nutrients for proper joint health and flexibility, including glucosamine, fucose, chondroitin sulfate, hyaluronic acid as well collagen and other proteins.
Willow extract

works in 4 different anti-inflammatory pathways to reduce pain and has been shown to be more effective than aspirin in reduction of inflammatory leukotrienes and COX-2
When taken daily, fast pain relief+ prevents back pain from flaring up, so it can be used for chronic conditions. Due to the White Willow Bark, it can also be used acutely.



Non-medicinal ingredients: Magnesium stearate, microcrystalline cellulose, silicon dioxide, gelatin.

Suggested Dosage: To help relieve lower back pain take three (3) capsules daily, or as recommended by a healthcare practitioner.

Caution: Consult a health care practitioner prior to use if you are pregnant or breastfeeding, or if symptoms persist or worsen. Do not use if you are allergic or sensitive to salicylates or eggs. Not recommended for children.

Note: fast pain relief+ contains no artificial colours, flavours, sweeteners, dairy, wheat, gluten, soy or yeast. Store in a cool, dry place.
Estimated delivery: between 1-2 days in Ontario/Quebec and 1-4 days Canada-wide