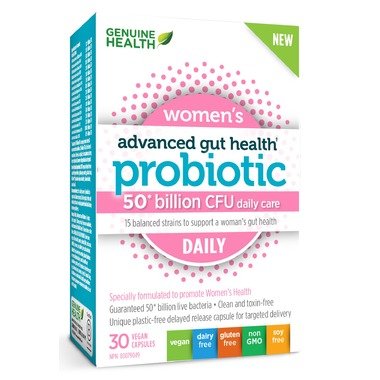 Genuine Health Advanced Gut Health - Probiotic Womens Daily 30 caps
Genuine Health Advanced Gut Health Probiotic Women's Daily is specially formulated to promote women's health. With 15 carefully chosen strains provide a balanced formula that supports women's gut, skin and vaginal health. Including:
L. fermentum for decreasing vaginal pH
L. acidophilus for anti-microbial support against uropathogens
L. gasseri for vaginal microbiome support
Lactococcus lactis for healthy skin support
The delayed-release, plastic-free capsule ensures that the strains pass through the stomach acid, reaching the gut where they thrive and delivers up to 10x the bacteria to the gut! The shelf stable blister pack protects bacteria from
damaging humidity and allows for easy travelling with no refrigeration required.

Features:
15 balanced strains to support a woman's gut and vaginal health
Guaranteed 50 Billion live bacteria
Unique plastic-free delayed-release capsules for targeted delivery
Clean and toxin-free
Formula:


*Guaranteed 50 billion CFUs at expiry, when stored at recommended conditions. 125 billion CFUs at the time of manufacture. Store in a cool place. For maximum potency, keep refrigerated, however refrigeration is not required.

Non-Medicinal Ingredients: 100% vegan delayed release capsule (hypromellose, gellan gum, water), potato starch, organic isomalto-oligosaccharides (VitaFiberTM fermented prebiotic fibre), magnesium stearate, silicon dioxide, ascorbic acid.

Recommended Use: For a daily source of probiotics to strengthen a woman's gut flora and support vaginal and immune system health.

Dosage: Adults and Adolescents ≥ 13 years: Take 1 capsule, 1-2 times per day with food. If you are on antibiotics, take Advanced Gut Health Probiotic Women's DAILY at least 2-3 hours before or after.

Note: Advanced gut health probiotic Women's DAILY is free from: eggs, milk, mustard, peanuts, seafood (fish, crustaceans, shellfish), sesame, soy, sulphites, tree nutsand wheat.

Caution: If you have nausea, fever, vomiting, bloody diarrhoea or severe abdominal pain, consult a health care practitioner prior to use. If symptoms of digestive upset(e.g. diarrhoea) occur, worsen, or persist beyond 3 days, discontinue use and consult a health care practitioner. If you have an immune-compromised condition, do not usethis product.
*This probiotic does not require refrigeration and will be shipped as is.
Estimated delivery: between 1-2 days in Ontario/Quebec and 1-4 days Canada-wide