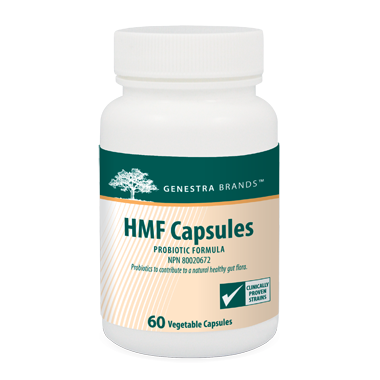 Genestra HMF Capsules 60 caps
Genestra HMF Capsules help support gastrointestinal health and provide 10 billion CFU per daily dose from: Lactobacillus acidophilus (CUL-60), Lactobacillus acidophilus (CUL-21), Bifidobacterium bifidum (CUL-20), Bifidobacterium animalis subsp. lactis (CUL-34).

HMF Capsules provides four strains of proprietary human-sourced probiotics that temporarily modify gut flora in adults and children. The microflora composition in the gut is relatively steady, although it can be altered by diet, stress, age and medication.

Probiotics promote the presence of beneficial bacteria to maintain healthy intestines. Beyond decreasing pathogen survival by increasing antimicrobial peptide release from host cells, probiotics also strengthen the epithelial barrier. They mediate the integrity of tight junctions, which control permeability, and increase the release of mucin, which prevents pathogens from adhering to cells on the intestinal surface.

Lactic acid bacteria Lactobacilli and Bifidobacteria are the most commonly used probiotics, and are safe for both adults and children. They effectively colonize the intestines and decrease the movement of bacteria from the intestines into circulation. Supplementation with large numbers of a combination of microorganisms helps maximize intestinal colonization, promoting the growth of beneficial bacteria.

In a randomized, placebo-controlled trial involving 22 adults, daily supplementation with a probiotic containing lactobacillus acidophilus (CUL-60 and CUL-21) catalyzed the restoration of microflora after it was altered by antibiotics. Specifically, probiotic supplementation better maintained a healthy microbial balance when consumed concurrently with antibiotics when compared to consumption after antibiotic therapy. Similarly, a probiotic supplement containing CUL-21 can also significantly colonize the intestines of healthy adults.

Recommended Dosage: Adults and Children (6 years and older) Take two capsules two times daily with meals, at least two to three hours before or after taking antibiotics, or as recommended by your healthcare practitioner.

Medicinal Ingredients: Per each capsule
Probiotic Consortium 2.5 billion CFU
Lactobacillus acidophilus (CUL-60 & CUL-21) 1.87 billion CFU
Bifidobacterium animalis subsp. lactis (CUL-34)
Bifidobacterium bifidum (CUL-20) . .0.63 billion CFU

Non-Medicinal Ingredients: Cellulose, Microcrystalline, Hypromellose, Lecithin, Monobasic potassium phosphate, Potassium phosphate, dibasic, Silica, Sucrose, Trehalose

Caution: If you are experiencing nausea, fever, vomiting, bloody diarrhea or severe abdominal pain, consult your healthcare practitioner prior to use. If symptoms of digestive upset occur, worsen or persist beyond three days, discontinue use and consult your healthcare practitioner. Consult a healthcare practitioner prior to use if you have fever, vomiting, bloody diarrhea or severe abdominal pain.

Contra-Indications: Do not use this product if you have an immune-compromised condition (e.g., AIDS, lymphoma, patientsundergoing long-term corticosteroid treatment).

Genestra HMF probiotics (despite having keep refrigerated on box) maintain a high degree of stability at 25C for up to 20 days. Please be advised that Well.ca follows manufacturer guidelines for storing & shipping probiotics. This product will be shipped with an ice-pack to maintain product efficacy.
Estimated delivery: between 1-2 days in Ontario/Quebec and 1-4 days Canada-wide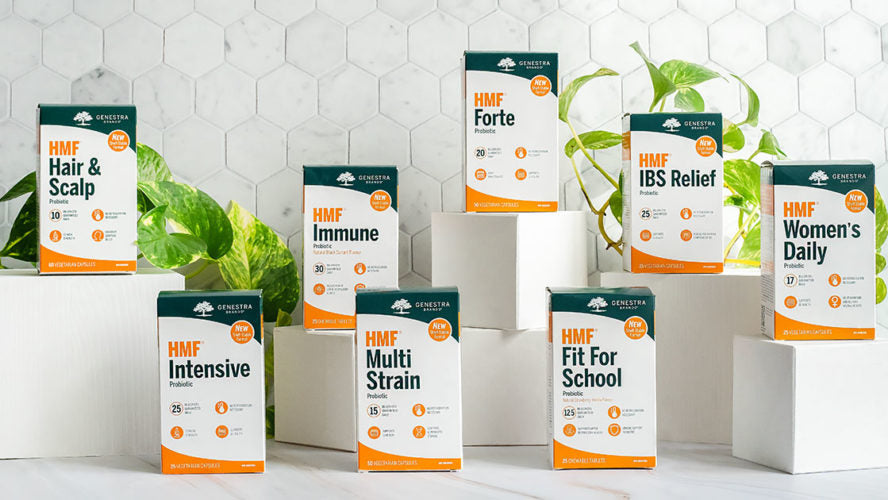 Genestra
Genestra supports condition-specific and individualized treatment plans with a 350+ comprehensive product offering in a variety of formats (liquids, capsules, powders, chewables, etc) and dosages.


Shop Now