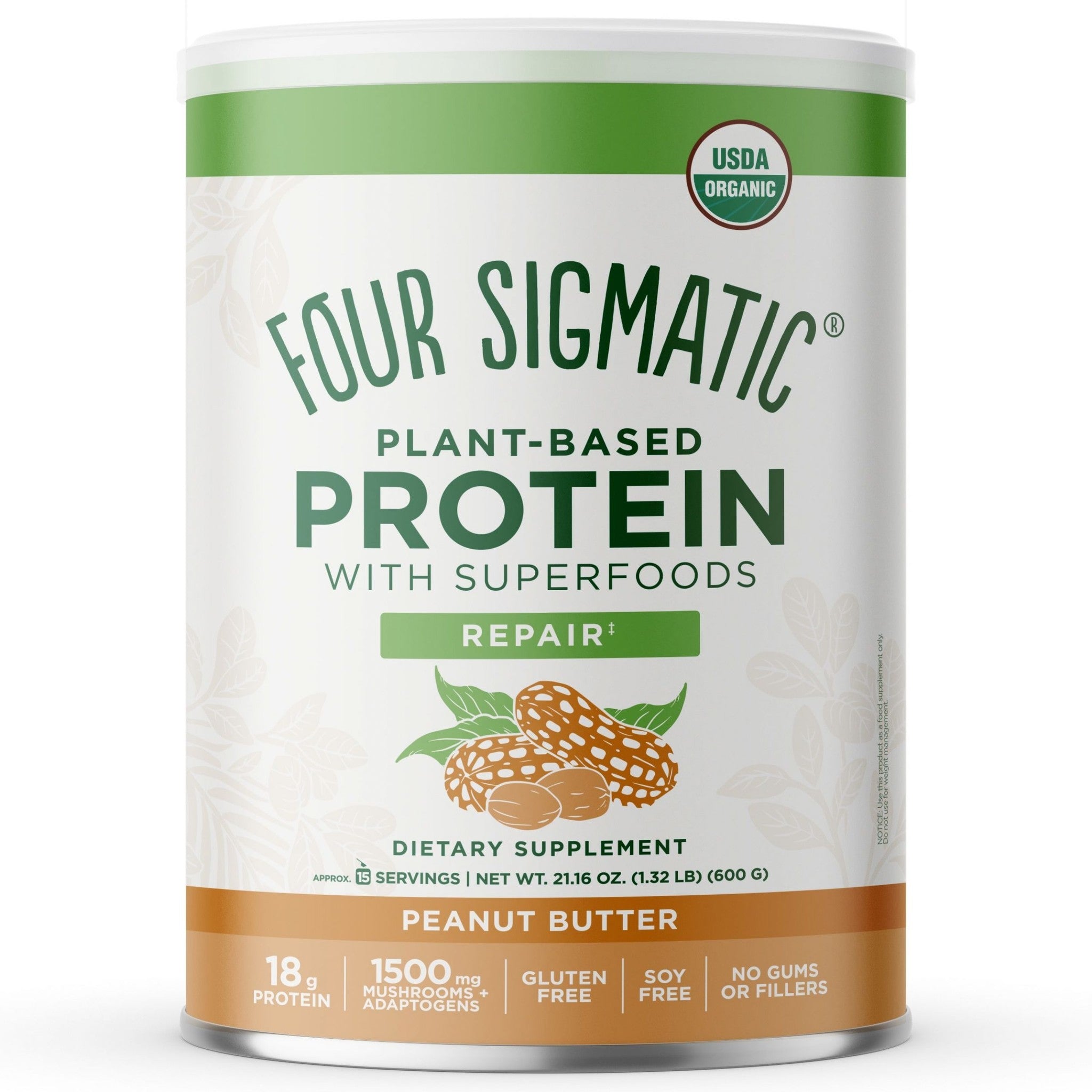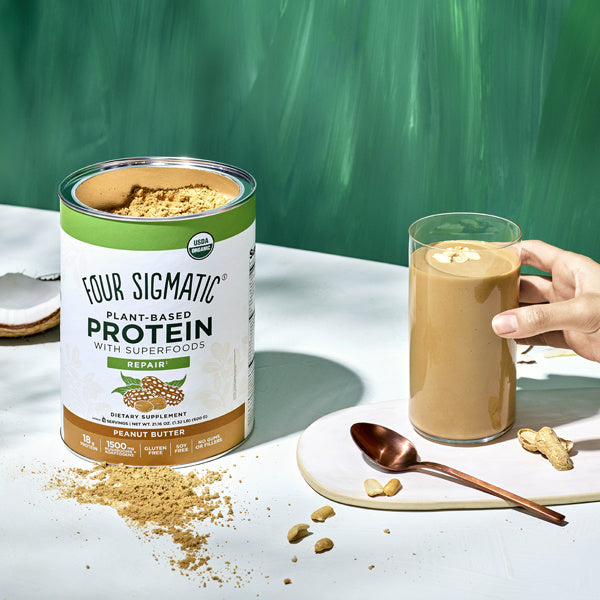 Four Sigmatic Plant Based Protein Peanut Butter 600g
FOUR SIGMATIC PEANUT BUTTER SUPERFOOD PROTEIN PEANUT BUTTER
More than helping rebuild and repair muscle after a workout, plant-based protein helps you to find balance for overall wellness. Four Sigmatic Peanut Butter Superfood Protein is peanut butter flavoured organic plant-based protein with mushrooms and adaptogens you can easily shake and sip, or blend into your favourite smoothie recipe.
THE DO-IT-ALL-IN-ONE SCOOP TO BUILD WELLNESS
18g sustainably sourced plant-based protein
1000mg total functional mushrooms and 500mg adaptogens
No gums, no fillers, no stevia, no whey! Way.
Add 1 scoop and 12 fl. oz. of water to a shaker cup with ice, shake, and enjoy morning or afternoon.
Or add 1 scoop to your favorite smoothie recipe. Need somewhere to start? Try it in a banana smoothie, blended with a chocolate non-dairy milk, or keep it simple and shake in a shaker bottle.
15 servings per canister
MIX. SIP. REPAIR.
• ORGANIC • VEGAN • GLUTEN-FREE •
INGREDIENTS
18g Organic Plant-based Protein, PLUS…
Organic Chaga Mushroom (200 mg per serving)
Organic Reishi Mushroom (200 mg per serving)
Organic Cordyceps Mushroom (200 mg per serving)
Organic Lion's Mane Mushroom (200 mg per serving)
Organic Turkey Tail Mushroom (200 mg Per Serving)
Organic Ashwagandha (250 mg per serving)
Organic Eleuthero (250 mg per serving)
Organic Peanut Flour, Organic Coconut Palm Sugar, Organic Yacon Juice Powder, Pink Himalayan Salt, Organic Monk Fruit Extract. These organic sweeteners, and real food flavors balance out the other ingredients to create a perfect peanut butter flavor. That's because it's real peanuts. Not "peanut flavor." You can mix with water or non-dairy milk, or add in your favorite flavors and this will blend right in.
Estimated delivery: between 1-2 days in Ontario/Quebec and 1-4 days Canada-wide