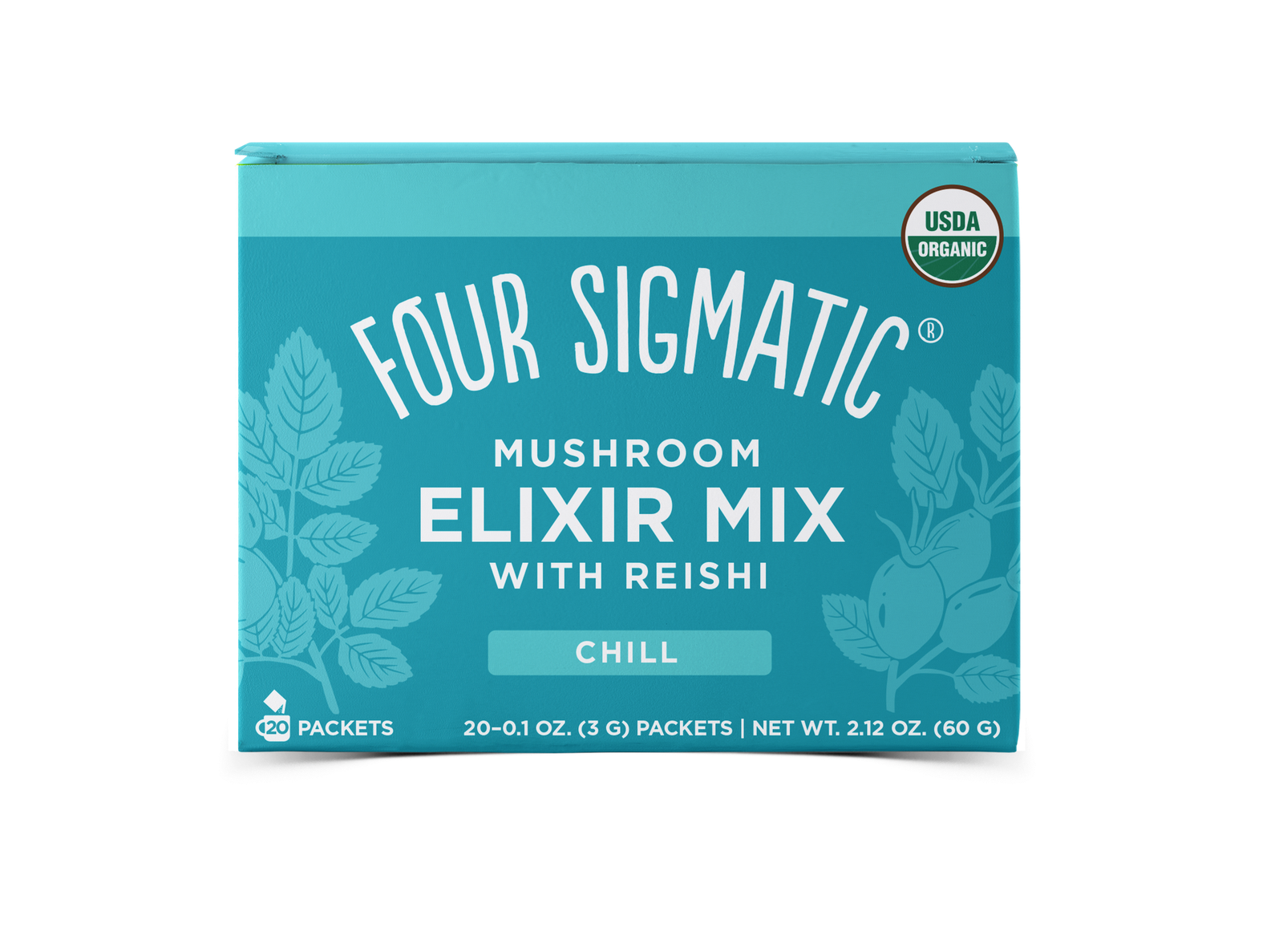 Instant Reishi - Box of 20
The main ingredient the Four Sigmatic Reishi Mushroom Elixir Mix is - you guessed it- pure log-grown reishi mushroom! Each dose of this Elixir has 1,000 mg of red reishi extract with at least 30 percent polysaccharides (more than 15 percent beta-glucans) and 2 percent triterpenes. If you have occasional stress and difficulty sleeping, reishi mushroom can help you relax and get a good night of sleep. No starch, sugars, or any fillers at all.

To make it easy to use, Four Sigmatic has dual-extracted it for you. This means that the active water- and fat-soluble components have been extracted with boiling water and alcohol, respectively. After removing the alcohol and concentrating the extract, it was spray-dryed back to powder.

Four Sigmatic only use the fruiting bodies of red reishi (Ganoderma lucidum). The mushrooms are grown in real linden logs cut from a forest, which ensures proper nutrition so that the reishi mushrooms have all of the nutrients needed to grow. They don't use the mycelium (or "roots" of the mushroom), but rather, they allow the fungus to concentrate all of its power into the actual mushrooms before taking them through a state-of-the-art dual-extraction process.

Featured Ingredients:
Organic Licorice Root: Harmonizing and naturally sweet, licorice brings a unique touch to the Reishi Elixir. Licorice is used in many formulations in Chinese herbalism. There is 175 mg of licorice root extract in each packet (which totals to less than 4.4 mg of glycyrrhizic acid).
Organic Star Anise: Star anise is a traditional and well-known spice and herb. Tts flavor blends well with the other ingredients in this mix.
Organic Peppermint: Delicious peppermint leaf is in the combo to add a nice minty touch to the taste.
Organic Stevia: A pinch of stevia leaf extract is added for calorie-free sweetness to round out the bitterness of the mushroom. This stevia is a high-quality concentrated extract without the metallic aftertaste.

Directions:
Add one packet to 8 fluid oz. of hot water, or blend it into your favorite smoothie.
Drink two hours before going to bed, or during a stressful day.
Drink one packet per day.

Only 5 calories per serving!

Ingredients: Organic Reishi Extract, Organic Star Anise, Organic Peppermint, Organic Licorice Root Extract, Organic Stevia Extract

All Natural, USDA Certified Organic, Sugar Free, Vegan, Paleo, Gluten Free, Allergen Free, Caffeine Free, No Fillers
Estimated delivery: between 1-2 days in Ontario/Quebec and 1-4 days Canada-wide