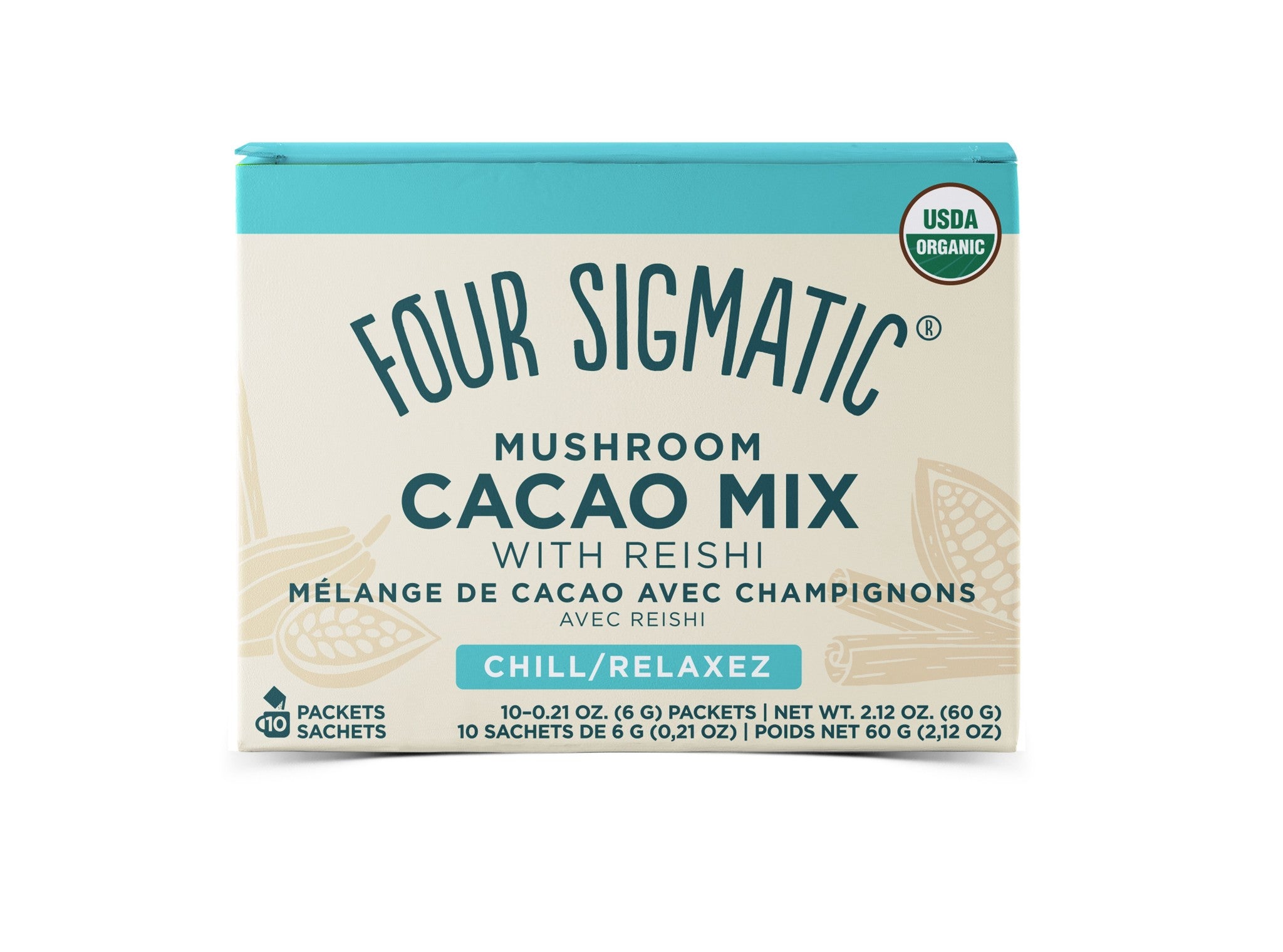 Hot Cacao Mix w/Reishi box of 10
The main active ingredient in the Four Sigmatic Mushroom Hot Cacao Mix With Reishi is- you guessed it - pure log-grown reishi mushroom! Each packet contains 500 mg of red reishi extract with at least 30 percent polysaccharides (more than 15 percent beta-glucans) and 2 percent triterpenes. The tasty drink mix can help you relax and get a good night of sleep if you have occasional stress or difficulty sleeping. No starch, sugars, or any fillers used.

To make it easy to use, Four Sigmatic has dual-extracted it for you. This means that the active water- and fat-soluble components have been extracted with boiling water and alcohol, respectively. After removing the alcohol and concentrating the extract, it was spray-dryed back to powder.

Four Sigmatic only uses the fruiting bodies of red reishi (Ganoderma lucidum). The mushrooms are grown in real linden logs cut from a forest, which ensures proper nutrition so that the reishi mushrooms have all the needed nutrients to grow. They don't use the mycelium (or "roots" of the mushroom), but, rather, allow the fungus to concentrate all of its power into the actual mushrooms before taking them through a state-of-the-art dual-extraction process.

Featured Ingredients:
Organic Cacao Powder: About 50% of each packet is composed of this smooth, flavorful, minimally processed cacao powder, grown in the high altitudes of Peru.
Organic Coconut Palm Sugar: Coconut palm sugar is a mineral-rich alternative to refined sugars. One serving contains only 2.5 grams of coconut palm sugar—just enough to create a nice texture and a hint of sweetness. To put into perspective, this amount compares to about 1/10 the amount of sugar in one banana!
Organic Cinnamon: The sweet and pungent flavor activates the taste buds to complement the fullness of cacao, and leave you satisfied without any lingering sweet cravings.
Organic Cardamom: This valued ayurvedic spice adds a great flavor to the blend.
Directions:
Drink espresso-style by adding one packet to 3 fluid oz. of hot water.
Drink one or two packets per day.

Ingredients: Organic Cacao Powder, Organic Coconut Palm Sugar, Organic Reishi Extract, Organic Cinnamon, Organic Cardamom Extract, Organic Stevia Extract

USDA Certified, Vegan, Gluten Free, Non-GMO, Paleo-Friendly, Allergen Free
Estimated delivery: between 1-2 days in Ontario/Quebec and 1-4 days Canada-wide