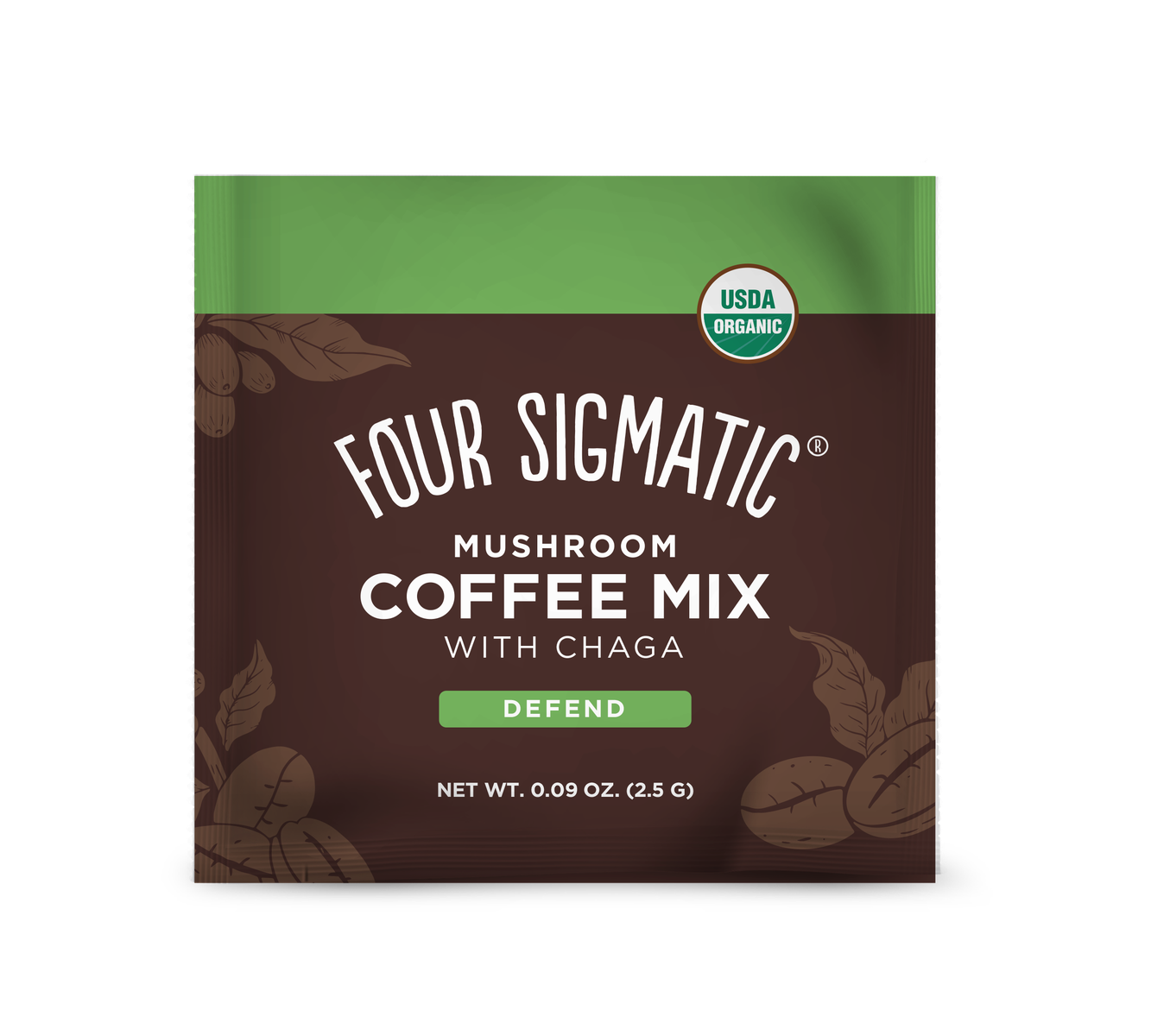 Coffee w/Cordyceps and Chaga - Single
The antioxidant properties of chaga mushrooms will transform your cup of Joe from an energizing treat to a healthy lifestyle choice! Coffee is so energizing because it stimulates the central nervous system and adrenal glands. When coupled with Lion's Mane mushrooms, recognized for their cognitive enhancing properties, coffee can be an outstanding productivity tool.

The best part is that you get all of this without sacrificing that great coffee taste. In fact, the flavor profiles and mouth-feel of regular coffee and chaga mushroom "tea" are so close that chaga mushrooms were used as a coffee replacement during World War II in Finland!

Recognized for their cognitive enhancing properties, these delicious mushrooms have been used traditionally for hundreds of years. Coffee can be an outstanding productivity tool, but even more so when coupled with a good lion's mane extract!

Four Sigmatic uses their renowned wild-crafted chaga mushroom dual-extract and lion's mane mushroom extract in this coffee blend. They perform both hot water and alcohol extraction on their mushrooms, and standardizes the final product to have at least 30 percent polysaccharides (more than 15 percent beta-glucans) and 2 percent triterpenes. As always, these pure spray-dried extract powders don't contain any sugars, fillers, or carriers. And they don't use caterpillars in the production methods, so this product is suitable for vegans.

This premium instant coffee mix made with 100 percent Arabica beans, grown in the highlands of the Sierra Madre de Chiapas in Mexico. It is grown under the canopy of shade trees in rich, volcanic soil. After carefully roasting and brewing the beans, Four Sigmatic concentrates the coffee by evaporation, and finishes it off by spray-drying it into a pure instant powder.

Four Sigmatic runs each coffee batch through a third-party laboratory to ensure the absence of mycotoxins. As with all of our products, we source the highest quality ingredients.

Directions:
Add one packet to 7 fluid oz. of hot water, or blend it into your favorite smoothie.
Drink it in the morning and at coffee breaks for upgraded enjoyment.
Drink one to two packets per day.
0 calories per serving!

Ingredients: Instant Coffee Powder, Lion's Mane Dual-extract, Wildcrafted Chaga Dual-extract, Wildcrafted Rhodiola Root Extract,

Non-GMO, Sugar Free, Vegan, Paleo-Friendly, Allergen Free
Estimated delivery: between 1-2 days in Ontario/Quebec and 1-4 days Canada-wide