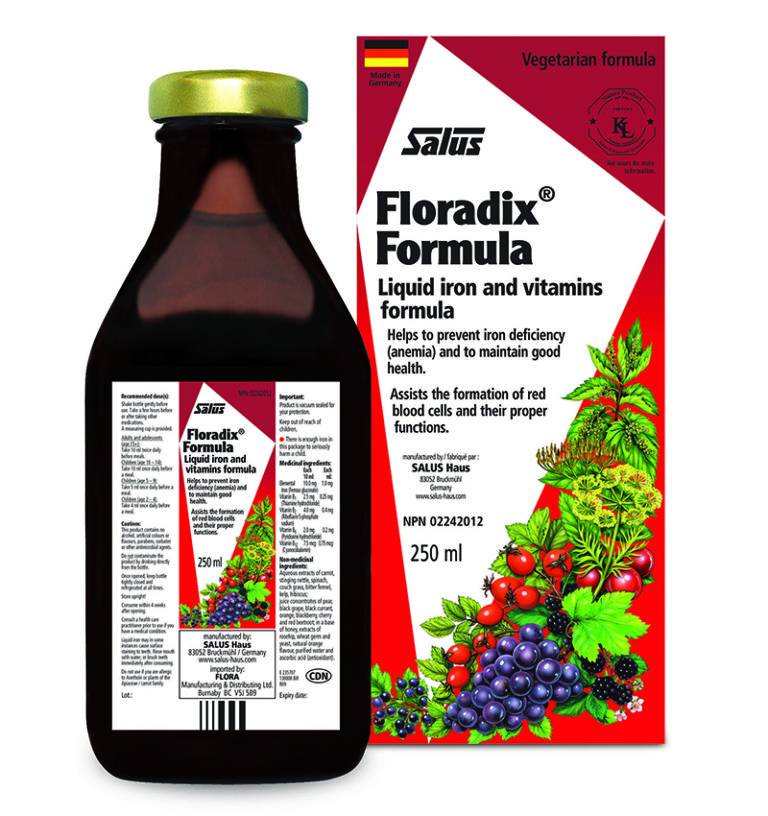 Salus Floradix Iron 250ml
Iron deficiency knows no boundaries – from women (it is estimated that up to 26% of reproductive aged women are iron deficient), to athletes, the elderly, and vegetarians – shortage of this mineral is widespread. Iron is an essential element for the body, and when it's low, energy levels decrease. Other tell-tale symptoms include: weakness, pale skin, dark under-eye circles, brittle hair and nails, shortness of breath, and cold hands and feet. Think you may be deficient? Flora has a time-tested formula that may help.
Floradix® is the best-selling natural liquid iron supplement in North America. It helps fight back against iron deficiency by promoting the formation of healthy red blood cells.* Plus, this safe, low dose, liquid iron supplement is formulated for easy absorption and assimilation, and is gentle on the digestive tract.
Each 20 mL serving satisfies the RDA for women of childbearing age*
Free of alcohol, artificial additives, synthetic preservatives, lactose
Packaged in environmentally friendly glass bottles
Kosher + Non-GMO + Vegetarian
NPN 02242012
NPN Claims:
Helps to prevent iron deficiency (anemia) and to maintain good health.
Assists the formation of red blood cells and their proper functions.
Supports tissue formation and normal growth.
Estimated delivery: between 1-2 days in Ontario/Quebec and 1-4 days Canada-wide