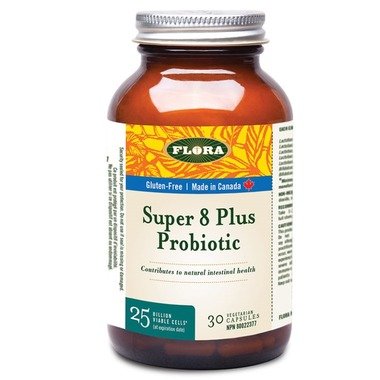 Flora Super 8 Probiotic 30caps
When intestinal balance is disrupted by modern diet, chlorinated water, stress, or medications, a yeast overgrowth may occur, causing symptoms like fatigue, weakened immune function, and problem skin. Super 8 Probiotic Blend delivers 25 billion viable cells per capsule at date of expiry. Flora Probiotic Blends help support the growth of a healthy natural microflora. These friendly bacteria are necessary for limiting the proliferation of undesirable bacteria, fortifying the immune system, while helping the body carry out the digestive process as nature intended.
Adults: 1-3 capsules daily after meals or on full stomach
EACH CAPSULE CONTAINS:MEDICINAL INGREDIENTS:
COLONY FORMING UNITS (CFU)
Lactobacillus acidophilus HA-122 11.25 billion
Lactobacillus rhamnosus HA-111 6.25 billion
Lactobacillus rhamnosus HA-114 2.5 billion
Lactobacillus plantarum HA-119 1.75 billion
Bifidobacterium bifidum HA-132 1.5 billion
Lactobacillus casei HA-108 0.75 billion
Bifidobacterium longum HA-135 0.75 billion
Lactobacillus salivarius HA-118 0.25 billion
NON-MEDICINAL INGREDIENTS:
Ascorbic acid, silicon dioxide, stearic acid, potato starch and hypromellose
This product has come into contact with milk and soy lecithin. Do not use this product if you have a milk or soy allergy. Discontinue use and consult a health care practitioner if symptoms of digestive upset (e.g. diarrhea) occur, worsen, or persist beyond 3 days. Keep bottle refrigerated. Keep out of reach of children.
Vegetarian, Vegan, Gluten Free, Yeast Free
Estimated delivery: between 1-2 days in Ontario/Quebec and 1-4 days Canada-wide