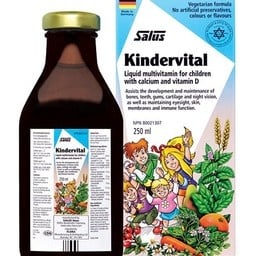 Kindervital Kids Liquid Multivitamin 250ml
Iron-Free Liquid Multivitamins for Growing Bodies
A pleasant tasting liquid supplement for children,Kindervital is a unique, balanced herbal tonic that supplies bone- and tissue-building vitamins and minerals such as calcium and magnesium that are important for growing children. Kindervital helps the body with the absorption and use of calcium, which is especially important for developing strong teeth and your child's growing bones. The quality and quantity of bone laid down in childhood will strongly impact bone health later in life. In fact, 90% of bone mass is laid down by the age of 17.
Kindervital contains vitamins A, B, C, D and E. The formula is iron-free, because iron competes directly with calcium for absorption. This delicious liquid supplement is made with carrots, wheat germ, rosehips, watercress, horsetail, nettle and spinach. The formula supports eye health and provides vitamins and antioxidants to promote strong immune function.
Today, most children are not eating as nutritiously as they should. The typical modern diet has become saturated with processed, refined foods stripped of their nutrients with empty calories that contribute to childhood obesity. Kindervital helps ensure that youngsters obtain the nutrients they need for proper growth and overall good health.
---
NPN Claims
Supports normal growth and the formation of tissue, connective tissue and red blood cells
Assists the development and maintenance of bones, teeth, gums, cartilage and night vision
Helps maintain eyesight, skin, membranes and immune function
Helps the body to metabolize nutrients including fats, proteins, and carbohydrates, as well as the absorption and use of calcium
Provides antioxidants for the maintenance of good health and wound healing
Helps in proper muscle function for children over 9 years old and adults
Benefits
Calcium is especially important for your child's growing bones and for developing strong teeth
Magnesium assists calcium in building bone strength and ensuring that the body utilizes calcium properly. Needed for over 300 biochemical reactions, magnesium helps with nerve, heart and muscle function
Vitamin A repairs tissue, strengthens vision and aids in bone and teeth formation while supporting mucous membranes and their secretions, including those in the lungs
B Vitamins offer "brain food" to the rapidly developing brain of a child and promote nervous system function. B vitamins also promote healthy appetite and stimulate muscle growth.
Vitamin C supports the immune system, helps build strong connective tissue and reduces histamines, which are responsible for the uncomfortable symptoms of seasonal issues including watery eyes, sneezing, runny nose and itching
Vitamin D is the most crucial vitamin in childhood, because it's needed for proper absorption and use of calcium and phosphorus. Due to the increase of pollution and limited sun exposure, vitamin D deficiency is on the rise, posing a threat to healthy bone development.
Vitamin E is an antioxidant that protects the Essential Fatty Acids in cell walls, preventing cells from being damaged. It also supports a strong immune response
Features
Kindervital contains vitamins A, B, C, D and E as well as key minerals which are bound to organic compounds for superior absorption
Vitamin D is added for proper absorption and utilization of calcium and phosphorus
Thoughtfully prepared in a pure food base of delicious fruit juices, aqueous herbal and vegetable extracts, maple syrup, honey, rosehip and other nutritious extracts
Contains mild digestive herbs to improve absorption and stimulate appetite
Free of alcohol, dairy, lactose, artificial sweeteners, additives and preservatives
Tested to guarantee heavy metals and pesticides are well below accepted limits
All vegetarian liquid formula
Packaged in environmentally friendly glass bottles
Certified kosher
Delicious fruit taste that children love
The formula is iron-free, because iron competes directly with calcium for absorption
Made in Germany by Salus
---
MEDICINAL INGREDIENTS:
EACH 5 ml (1 tsp.) CONTAINS:
| | |
| --- | --- |
| Vitamin A (all-trans retinyl palmitate) equivalent to 375 μg RAE | 1250 IU |
| Vitamin D3 (cholecalciferol) equivalent to 2.5 μg | 100 IU |
| Vitamin C (ascorbic acid) | 25 mg |
| Vitamin E (d-α-tocopheryl acetate) equivalent to 4.2 mg ATE | 6.25 IU |
| Vitamin B1 (thiamine hydrochloride) | 375 μg |
| Vitamin B2 (riboflavin-5-phosphate sodium) | 375 μg |
| Vitamin B3 (nicotinamide) | 2.5 mg |
| Vitamin B6 (pyridoxine hydrochloride) | 375 μg |
| Vitamin B12 (cyanocobalamin) | 0.15 μg |
| Calcium (calcium lactate pentahydrate, calcium gluconate, calcium hypophosphite) | 50 mg |
| Magnesium (magnesium hydrogen phosphate) | 7.25 mg |
NON-MEDICINAL INGREDIENTS: In a base of orange and pear juice, malt extract, yeast extract, maple syrup, honey, rose hip extract, wheat germ extract, natural flavour of cocoa and orange, water; infusion of carrot, anise seed, chamomile flower, peppermint leaf, watercress, wheat germ, coriander seed and spinach.
---
RECOMMENDED DOSE(S):
For all sub-populations: Shake bottle well before use. Take a few hours before or after taking other medications. A measuring cup is provided.
Children age 1 - 3: Take 5 ml (1 tsp) once daily. May be mixed with juice or drinking water.
Children age 4 - 8: Take 5 ml (1 tsp) 2 times daily.
Children age ≥ 9 and adults: Take 10 ml (2 tsp) 2 times daily.
CAUTIONS AND WARNINGS:
This product contains no alcohol, preservatives or additives. Do not contaminate the formula by drinking directly from the bottle. To preserve the product and prevent its fermentation, keep refrigerated at all times after opening and consume within 4 weeks. Keep out of reach of children. Consult a health care practitioner prior to use if you are taking any medications, if you have a medical condition, or if you are pregnant or breastfeeding.
CONTRA-INDICATIONS:
Do not use if you are with known sensitivity to anethole or Matricaria, or if you have an allergy to Asteraceae/ Compositae/ Daisy family.
KNOWN ADVERSE REACTIONS:
Hypersensitivity (e.g allergy) has been known to occur; in which case, discontinue use.
Estimated delivery: between 1-2 days in Ontario/Quebec and 1-4 days Canada-wide