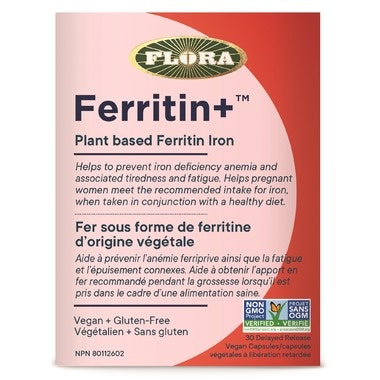 Flora Ferritin+ Plant Based Iron 30 caps
Many healthcare providers recommend taking an iron supplement if you're low on this essential mineral. But form matters. Enter Ferritin+, a plant-based ferritin-iron extracted from organic peas. Ferritin is a naturally protein-coated form of iron found in legumes that allows for controlled release and efficient absorption, which helps to minimize digestive upset.

Features and Benefits:
Supports energy and mental clarity
Helps maintain healthy iron levels
Plant-based, made with organic peas
Naturally enteric coated, slow release ferritin iron is gentle on the gut
One capsule per day provides 20mg of elemental iron
Vegan, Gluten-Free, Non-GMO
Made In Canada
Recommended Dosage: (Adults, adolescents and children 6 years and over) Take 1 capsule once daily with food. Take a few hours before or after taking other medications or natural health products.

Medicinal Ingredient: Each Capsule Contains:
Iron (Ferritin, from organic pea [Pisum sativum] seed) 20 mg

Non-Medicinal Ingredients: Microcrystalline cellulose, Hypromellose, Gellan gum, Magnesium stearate.

Keep out of reach of children. There is enough iron in this package to seriously harm a child. Known Adverse Reactions: Stop use if hypersensitivity occurs.
Estimated delivery: between 1-2 days in Ontario/Quebec and 1-4 days Canada-wide