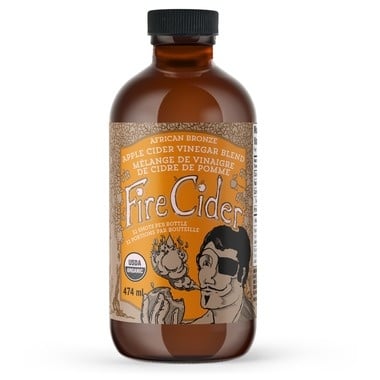 Fire Cider African Bronze 474ml
After crafting the Fire Cider original base of organic raw apple cider vinegar, roots, veggies, fruits, and spices, Fire Cider sweetens the pot with African Bronze Honey. The honey is darker and gives this Fire Cider tonic a smooth texture and a flavor that has exotic hints of toffee, smoke, and spice.
Features:
32 shots per bottle
Organic
Vegan friendly
Ingredients: Organic Apple Cider Vinegar, Organic African Bronze Honey, Organic Oranges, Organic Lemons, Organic Onions, Organic Horseradish, Organic Ginger, Organic Garlic, Organic Turmeric, Organic Habanero Pepper, Organic Black Pepper.
Recommended Dosage: ½ to 1 tablespoon
Estimated delivery: between 1-2 days in Ontario/Quebec and 1-4 days Canada-wide