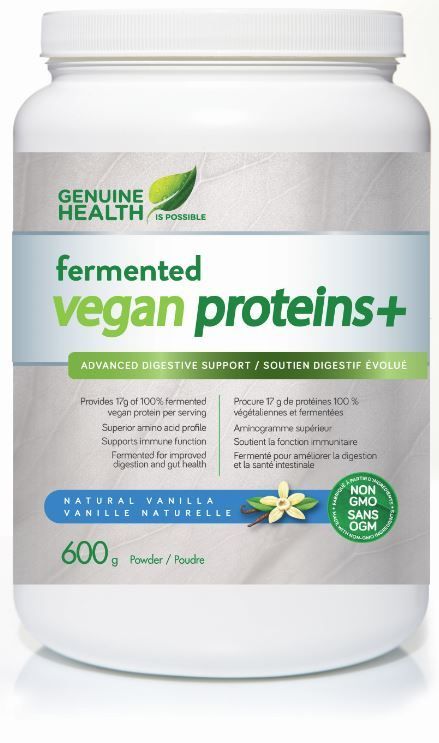 Fermented Vegan Protein Natural Vanilla 600g
Only Genuine Health fermented vegan proteins+ contains a custom formulated blend of carefully selected high quality vegan ingredients that are all exceptionally high in protein content and together provide a unique and synergistic source of high quality fermented protein.
These unique vegan ingredients are artisanally fermented in small batches using non-dairy probiotics by professional microbiologists who monitor and control the entire process to ensure pristine quality and the perfect level of
fermentation for optimal health benefits. The Finished product is packed full of nutritional value, predigested and ready for your body to use. In no other product can this custom blend be found!
INGREDIENTS:
Ingredients per 29.5g
Fermented vegan protein blend : . . . . . . . . . . . . . 25.9 g
Pisum sativum: yellow pea kernel protein concentrate (80% protein)
Oryza sativa: brown rice seed protein concentrate (80% protein)
Genuine Health fermented vegan protein blend:
Cannabis sativa: organic hemp seed protein
Chenopodium quinoa: organic quinoa sprouts
Medicago sativa: alfalfa juice protein concentrate
Arthrospira platensis: organic spirulina
Vigna radiata var. radiata: mung bean sprouts
Non-Medicinal Ingredients: (Natural Vanilla Flavour Only): Natural Vanilla Flavour Blend, Organic Stevia Leaf Extract, Xanthan Gum, Lo Han Guo (Monk Fruit) Extract.
Adult Dosage:
Mix 1 scoop (29.5 g) in 1 cup (250 mL) of water. Shake well. Store in a cool, dry place.
Estimated delivery: between 1-2 days in Ontario/Quebec and 1-4 days Canada-wide