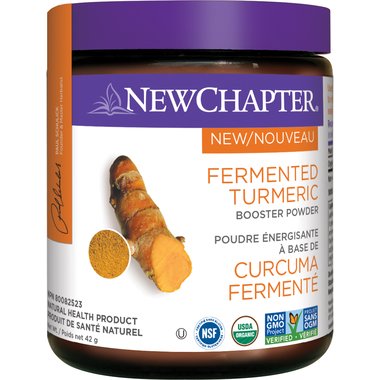 New Chapter Fermented Turmeric Powder 42g
The New Chapter Fermented Turmeric Booster Powder delivers full-spectrum, fermented turmeric traditionally used as an anti-inflammatory to help relieve joint pain. Add to your favourite drink for a boost of natural antioxidants.
Known as the "King of Herbs" in Ayurvedic medicine, Turmeric has been used and revered in traditional herbal systems for thousands of years. At New Chapter, it is truly believed that Turmeric is one of the world's most important herbs.
Features:
Delivers Full-Spectrum, Fermented Turmeric traditionally used as an Anti-Inflammatory to help relieve Joint Pain
Supports Healthy Liver Function
USDA Organic and Non GMO Project Verified
Brain Support
Heart Support
Dosage: Take 1/2 teaspoon, once daily. Add 1/2 teaspoon to your favourite milk, juice, or smoothie.
Ingredients: Organic Turmeric
New Chapter is Committed to Sustainability. Their concern for the planet is expressed through their every act of business, whether big or small. Sustainability begins with intention - and from the start, their intention has been to produce the most conscious product possible. They also work to advance the organic mission, nourishing body and soul with the healing intelligence of pure whole foods and herbal supplements. New Chapter believes in nurturing and sustaining Mother Earth, the source of natural healing.
Estimated delivery: between 1-2 days in Ontario/Quebec and 1-4 days Canada-wide