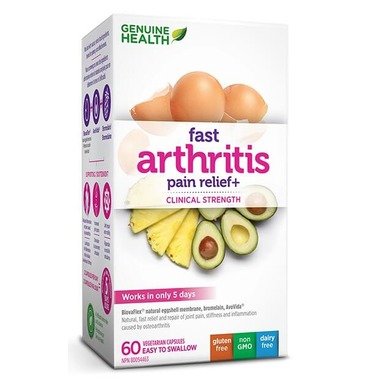 Genuine Health Fast Arthritis Pain Relief 60 caps
Introducing fast arthritis relief+, the latest innovation in all-natural, clinical strength anti-inflammatory support for sufferers of arthritis.

Made with the robust combination of Natural Eggshell Membrane, AvoVida and Bromelain,fast arthritis relief+ is the fastest, most effective way to reduce the pain and inflammation of osteoarthritis, while also rebuilding the cartilage and joint space lost to its damaging effects.

Features:
Increased range of motion joint mobility & joint space lost of arthritis
Helps build joint cartilage and provide important nutrients for joint repair
Natural anti-inflammatory, providing more support for this common component of joint pain
Fast pain relief in as little as 7-10 days (compared to 10-30 days for Glucosamine) about the robust ingredients found in fast arthritis relief
AvoVida Research-proven to increase joint space lost from degenerative changes in osteoarthritis.
Bromelain a natural enzyme found in pineapples, which is highly anti-inflammatory and provides superior support for common components of joint pain, and highly problematic symptoms of arthritis
Derived from egg shells, Natural Eggshell Membrane feeds your body all essential nutrients for proper joint health and flexibility, including glucosamine, fucose, chondroitin sulfate, hyaluronic acid as well collagen and other proteins
When taken daily, fast arthritis relief+ prevents and treats joint pain, while providing cartilage building and anti-inflammatory benefits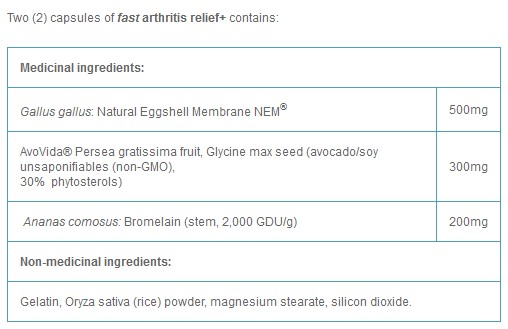 Suggested Dosage: To help relieve pain and stiffness associated with osteoarthritis take two (2) capsules daily, or as recommended by a healthcare practitioner. Consult a health care practitioner for use beyond 2 months.

Caution: Consult a health care practitioner prior to use if you are pregnant or breastfeeding, if symptoms persist or worsen, you have a gastrointestinal lesion/ulcer, are taking an anticoagulant/blood thinner, anti-inflammatory or antibiotic, or having surgery. Hypersensitivity/allergy, nausea, vomiting and diarrhoea have been known to occur, in which case discontinue use and consult a health care practitioner. Do not use if you are allergic or sensitive to eggs.

Note: fast arthritis relief+ contains no gluten, wheat, dairy, artificial colours, flavours, sweeteners or preservatives. Store in a cool, dry place.
Estimated delivery: between 1-2 days in Ontario/Quebec and 1-4 days Canada-wide