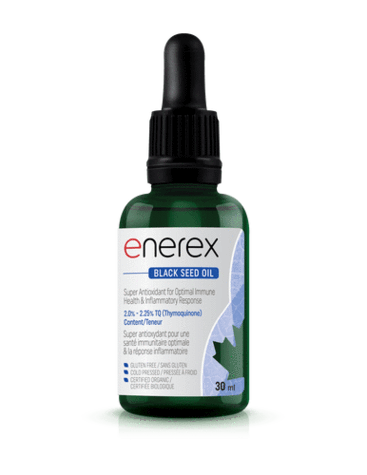 Enerex Black Seed Oil 30ml
Black Seed Oil with Vitamin E offers health maintaining antioxidants. Black Seed Oil is very high in good fats: with 50% Linoleic acid (omega 6 essential fatty acid), 25% Oleic acid (olive oil's health-giving omega 9). Although it was used as far back as 5000 years ago, today we know that Black Seed Oil contains compounds including beta-sitosterol, crystalline nigellone and thymoquinone.
Benefits:
Help relieve bronchitis
Remedy colic in babies
Reduce diarrhea, indigestion and heartburn
Relieve headaches and migraines
Calm insomnia
Help decrease cholesterol and increase the elasticity of blood vessel walls to increase cardiovascular health
Reduce depression or lethargy
Reduce signs of eczema
Ease joint pain and sore muscles (acting as an analgesic)
Substitute for anti-inflammatory medication
Help remedy gallstones and kidney stones
Help prevent poliosis (early graying)
Directions:
Take half a teaspoon (2 g = 2.5 ml) once daily with food, diluted in water or juice, or as directed by a health care practitioner.
External Use: May be applied topically to skin and hair.
Store in a cool, dry place. Keep out of reach of children. Consult a health care practitioner prior to use if you have a known immune disorder, or for use beyond 8 weeks. May cause gastrointestinal upset. Do not use if pregnant, breastfeeding, or if you are trying to conceive.
Estimated delivery: between 1-2 days in Ontario/Quebec and 1-4 days Canada-wide