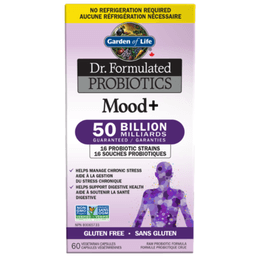 Garden of Life Dr Formulated Probiotics Mood+ 50 Billion 60 caps- Shelf Stable
Mood + is an innovative formula with clinically studied probiotics, Organic Ashwagandha and Organic Blueberries to support stress management.

Features:
50 Billion CFU
Helps Manage Chronic Stress
16 Probiotic Strains Guaranteed
Vegetarian Capsules
No refrigeration required
Gluten free & Vegetarian
Recommended Dosage: (Adults) Take 2 capsules once daily or as recommended by your healthcare practitioner.

Ingredients: Medicinal (per capsule): Probiotic Blend 25 Billion CFU: Lactobacillus acidophilus (La-14) 6.5 Billion CFU, Lactobacillus plantarum (Lp-115) 13 Billion CFU, Lactobacillus delbrueckii subsp. bulgaricus (Lb-87) 0.01 Billion CFU, Lactobacillus helveticus (R0052) 1.49 Billion CFU, Lactobacillus brevis (Lbr-35) 0.1 Billion CFU, Lactobacillus casei (LC-11) 0.15 Billion CFU, Lactobacillus gasseri (Lg-36) 0.05 Billion CFU, Lactobacillus paracasei (Lpc-37) 0.92 Billion CFU, Lactobacillus rhamnosus (HN001) 0.22 Billion CFU, Lactobacillus salivarius (LS-33) 0.07 Billion CFU, Bifidobacterium longum subsp. longum (R0175) 0.06 Billion CFU, Bifidobacterium bifidum (Bb-06) 0.04 Billion CFU, Bifidobacterium breve (Bb-03) 0.11 Billion CFU, Bifidobacterium animalis subsp. lactis (BI-04) 2.25 Billion CFU, Bifidobacterium longum subsp. infantis (Bi-26) 0.02 Billion CFU, Bifidobacterium longum subsp. longum (BI-05) 0.04 Billion CFU; Organic Ashwagandha Root Extract (with anolides 5%) 150mg (10 – 15:1; 1500 – 2250 mg dried equivalent), Organic Fruit blend 23.8 mg [From Alaska/Oval-leaf blueberry (Vaccinium alaskaense) (fruit), Bog bilberry (Vaccinium uliginosum) (fruit), Dwarf bilberry (Vaccinium cespitosum) (Fruit)].
Non-Medicinal Ingredients: (contains no carriers, fillers, artificial colors or flavors). Organic acacia gum, organic potato starch (tuber), non-GMO vegetable pullulan (capsule).

Caution: As with any dietary supplement, consult your healthcare practitioner before using this product, especially if you are pregnant, nursing, anticipate surgery, take medication on a regular basis or are otherwise under medical supervision. Do not use this product if you have an immune-compromised condition. Consult a healthcare practitioner prior to use if you have fever, vomiting, bloody diarrhoea or severe abdominal pain.
Estimated delivery: between 1-2 days in Ontario/Quebec and 1-4 days Canada-wide