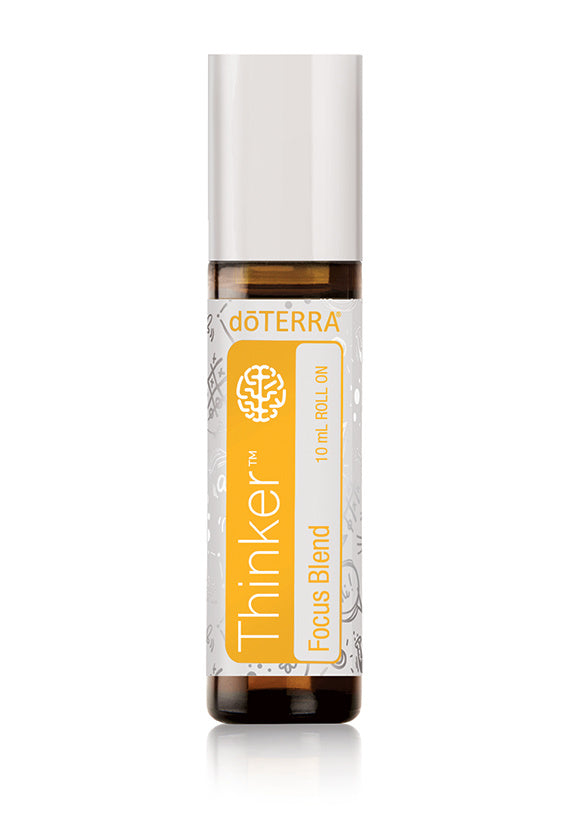 Doterra Thinker Roll On 10 ml
Description
Ideal for everyone and for daily use, Thinker Focus Blend features Vetiver, Peppermint, Clementine, and Rosemary perfectly combined with Fractionated Coconut Oil for sensitive skin. Peppermint, one of the main essential oil ingredients in the blend, offers a distinct aroma that may increase feelings of alertness and help to focus on tasks. Another ingredient, Rosemary essential oil, instills a sense of focus and clarity. Vetiver and Clementine oil are thoughtfully combined with Peppermint and Rosemary to create an earthy, minty, and herbal aromatic experience that is fresh and energizing when applied topically.
Uses
Keep Thinker on hand in your purse or child's backpack.
Roll onto wrists or hands and inhale deeply for a positive test-taking experience.
Apply Thinker for an uplifting aroma as part of your study routine.
Directions for Use
Aromatic Use: Roll onto diffusing jewelry, natural dolomite, or lava diffusing rocks.
Topical Use: Apply to desired area. Intended for use with adult supervision.
Cautions
Keep out of reach of children under 3. Possible skin sensitivity. If under a doctor's care, consult your physician. Keep out of eyes, inner ears, mouth, and sensitive areas.
Estimated delivery: between 1-2 days in Ontario/Quebec and 1-4 days Canada-wide