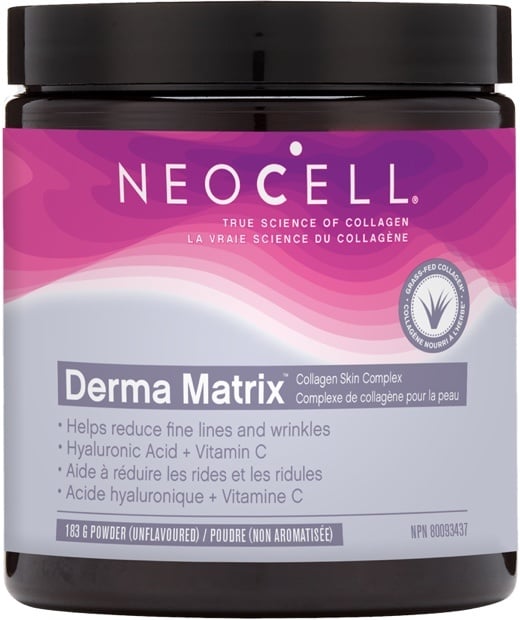 Derma Matrix Collagen 183g
Ingredients: Collagen Type 1 & 3, Hyaluronic Acid, Vitamin C. With Hyaluronic acid and Vitamin C, key nutrients essential to the formation of collagen, connective tissue health and cell support from free radicals.
Benefits: Beautiful Skin. With collagen clinically shown to visibly reduce the appearance of fine lines and deep wrinkles, our product helps maintain suppleness and promotes beautiful, smooth skin.
How to Use: Collagen Drink. For beautiful skin, dissolve one scoop daily in 8 oz. glass of water, orange juice or your favourite beverage.
Medicinal Ingredients (each scoop contains):
Hydrolyzed Collagen Type 1 & 3 Protein (Bovine-skin/hide split*): 6,000 mg
Vitamin C (as calcium ascorbate): 60 mg
Hyaluronic Acid (Streptococcus equi): 30 mg
Amla Fruit (Phyllanthus emblica) 5:1: (25 mg) 5 mg
*Predominantly grass-fed beef
Non-Medicinal Ingredients:
None
Does not contain: Soy, wheat, starch, yeast, or artificial flavours. Gluten Free.
Allergen Warning: May contain trace amounts of naturally occurring sulfite residue. Do not use if you have a sulfite allergy.
Non-GMO. This product does not contain genetically modified material.

Known Adverse Reactions: May cause mild gastrointestinal disturbances.

Warning: Keep out of reach of children. If you are pregnant or breastfeeding, consult a health care practitioner prior to use. If you have liver or kidney disease or if you have been instructed to follow a low protein diet, consult a health care practitioner prior to use.
Storage conditions: Store in a cool, dry place.
Recommended Use: Helps to reduce joint pain associated with osteoarthritis. Helps in the development and maintenance of bones, cartilage, teeth, and gums. Helps to maintain the body's ability to metabolize nutrients. An antioxidant for the maintenance of good health.
Directions: Adults: Take one scoop (6.1 g) of quick-dissolving powder daily and mix into water, coffee or your favourite smoothie recipe. For best results, take on an empty stomach. For joint pain: use for at least 5 months to see beneficial effects.
Estimated delivery: between 1-2 days in Ontario/Quebec and 1-4 days Canada-wide