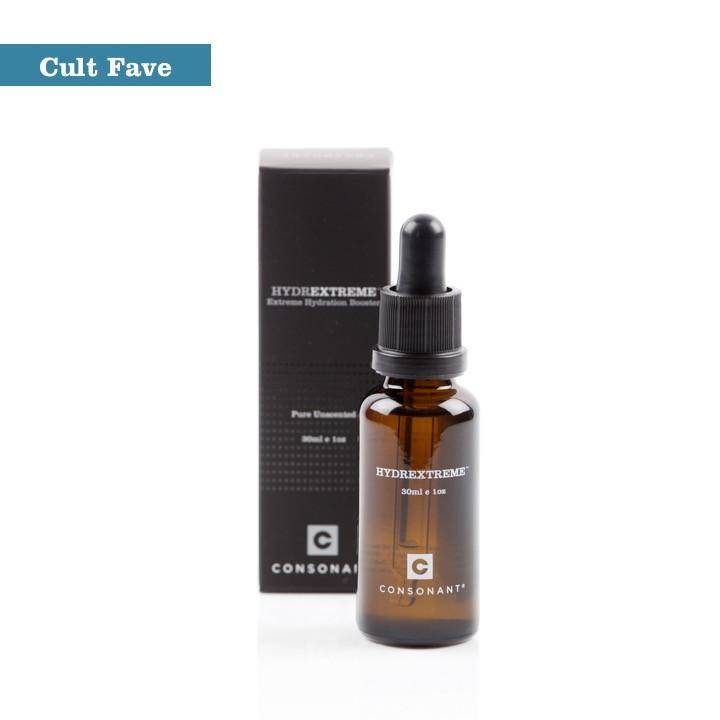 Consonant Hydrextreme Extreme Hydration Booster
Grand Prize Winner: Canadian Beauty Innovation Awards.
"I know I talk about it all the time, but HydrExtreme really is the best. " – BeautyEditor.ca
This cult-favourite serum guarantees to hydrate, plump and restore your glow.
HydrExtreme is an extreme hydration boosting serum that is clinically proven to deliver potent and persistent moisturization that significantly outperforms Hyaluronic Acid.
Formulated with only two ingredients, a proprietary blend of exotic Cassia Angustifolia Seed Extract and Vegetable Glycerine, this product is unparalleled. You will see more smooth, youthful and hydrated skin instantly. The light, non-greasy serum absorbs quickly making it a dream for all skin types.
It also helps to sooth eczema, dermatitis and other skin irritation. All naturally.
In a panel study, after one week:
- 100% saw improved hydration
- 90% saw a reduction in the appearance of fine lines and wrinkles
In a clinical study, HydrExtreme was proven to provide profound immediate hydration, outperforming the leading Hyaluronic Acid serum by over 70% after one hour.
It maintained hydration and outperformed the same leading Hyaluronic Acid serum by 35% after 24 hours.
Results from an independent double blind controlled study.
Estimated delivery: between 1-2 days in Ontario/Quebec and 1-4 days Canada-wide