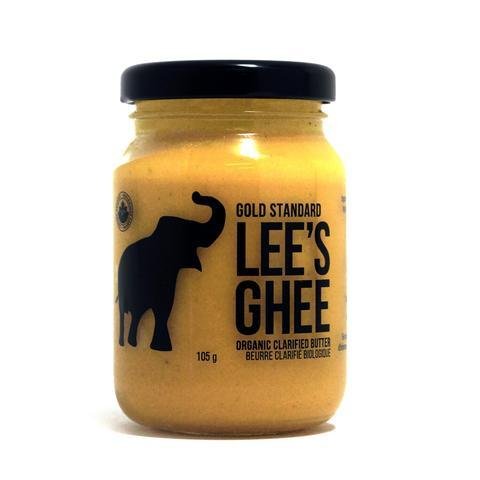 Organic Clarified Butter Gold Standard 105g
A Touch of Gold with Gold Standard!
An earthy tasting ghee with antioxidant properties, Gold Standard can be used for sautéing vegetables, making golden milk or melting on popcorn.
To make our Gold Standard Ghee, we use Certified Organic and non-irradiated turmeric and black pepper. Turmeric root is traditionally used in Ayurveda and is known to be good for digestion, skin problems, and inflammation. Combining turmeric with ghee and black pepper increases the bioavailability of curcumin (the active ingredient in turmeric). Although modern medical research has recently proven the health benefits of consuming turmeric, Ayurvedic medicine has been aware of the root's benefits for over five thousand years.
Anti-Inflammatory Properties
Gold Standard contains turmeric and black pepper, which have anti-inflammatory properties.
Turmeric contains curcumin, a potent antioxidant that can neutralize free radicals.
Curcumin is fat-soluble, so it is better absorbed in the body when taken with a fat.
Black pepper's constituent, piperine, also aids in the absorption of curcumin.
100% Certified Organic Ingredients
Lee's Ghee is made from organic butter, which is grass-fed whenever possible.
All of our organic spices are non-GMO and non-irradiated.
A Lactose-Free Alternative to Butter
99% of the milk solids have been removed during the clarification process, rendering our ghee virtually lactose-free and safe for anyone with lactose-intolerance.
Ingredients: organic butter*, organic turmeric*, organic black pepper*.
Estimated delivery: between 1-2 days in Ontario/Quebec and 1-4 days Canada-wide