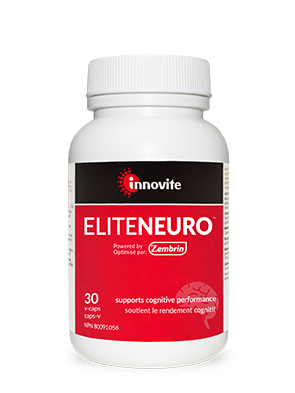 EliteNeuro is clinically proven to provide dual-action cognitive and mood support. Powered by Zembrin, a patented plant extract that impacts prefrontal cortex performance and boosts serotonin levels without the adverse withdrawal side effects associated with conventional therapies (eg. Ritalin). Enhance decisionmaking, impulse control and strategy formation PLUS increase processing speed.
Benefits:
Reduce feelings of anxiety and insecurity.
Minimize stress and associated irritability.
Perfect for those looking to become more elite thinkers: students, professionals and adults with cognitive impairments (ADHD, autism, etc).
Recommended Dosage: Adults: Take one capsule daily. Use for a minimum of 3 weeks to see beneficial effects.

Medicinal Ingredients: Each capsule contains Zembrin providing:
Sceletium (Sceletium tortuosum(aerial parts) extract) 25 mg
Extract 2:1 equivalent to 50 mg of dried Herb Top, Standardized to 0.4% Alkaloids

Non-Medicinal Ingredients: Gelatin, Magnesium stearate, Microcrystalline cellulose, Silicon dioxide, Stearic Acid.

Caution: Consult a health care practitioner if symptoms persist or worsen. Consult your health care practitioner prior to use if you are taking anxiolytics, MAO inhibitors, antidepressant medications (e.g. selective serotonin reuptake inhibitors (SSRI)), or phosphodiesterase type 4 (PDE4) inhibitors. Do not use if you are pregnant or breastfeeding
Estimated delivery: between 1-2 days in Ontario/Quebec and 1-4 days Canada-wide