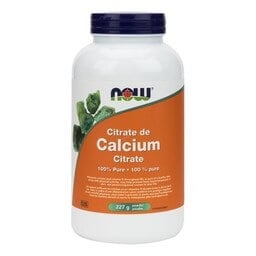 Formulated with exact specifications and high standards, Calcium Citrate is the optimal calcium supplement. The calcium is complexed with citric acid for enhanced solubility and contains no other ingredients. The Powdered form is pure, free of fillers and preservatives, much lower in cost, easy to digest, and can be taken in desired potencies.
Features:
When combined with diet & exercise, may help prevent bone loss/osteoporosis in peri and postmenopausal women in later life
Highly Bioavailable Calcium
Enhanced Mixability
100% Pure Powde
Vegetarian/Vegan Product
Suggested Usage: As a dietary supplement, take 1 1/2 level teaspoons daily, preferably with a meal. For best results, blend into "pulpy" type juices such as tomato or orange juice.

Ingredients: Per 1 1/2 level teaspoons: Calcium (from Calcium Citrate) 600 mg.
Estimated delivery: between 1-2 days in Ontario/Quebec and 1-4 days Canada-wide