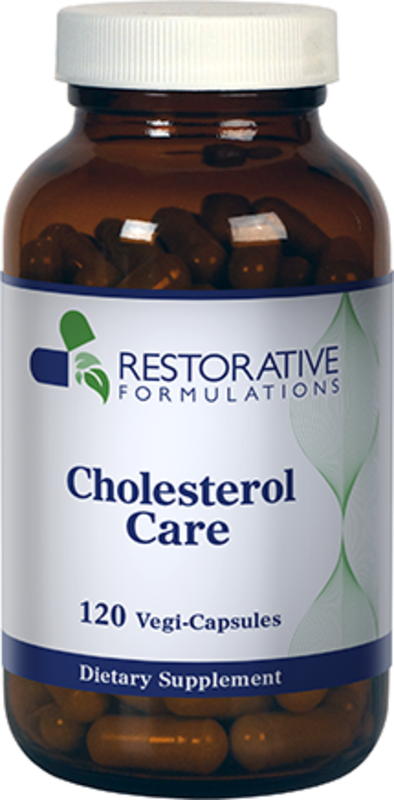 Restorative Formulations C Care 120 vcaps
Cholesterol Care supports the healthy biosynthesis of lipids to maintain good cardiovascular health.
It promotes healthy circulation and liver function.
Supports healthy apolipoprotein metabolism
Maintains healthy blood lipid metabolism and supports cardiovascular health by helping maintain already normal cholesterol levels
Supplement Facts
Servings Per Container:
40
| Ingredients | Amount Per Capsule |
| --- | --- |
| Red Yeast Rice Powder, Certified Organic (Monascus purpureus) | 1,350 mg |
| Reishi Mycelium, Certified Organic (Ganoderma lucidum) | 450 mg |
| Milk Thistle seed, Certified Organic (Silybum marianum) | 300 mg |
| CoQ10 (Ubiquinone) | 15 mg |
Other Ingredients:
Vegetable Cellulose (capsule), Omega 3 Powder (flaxseed)
Suggested Use:
1 to 3 vegi-capsules, twice daily, or as recommended by your health care practitioner. Can be taken with or without food.
Health Benefits
Cardiovascular Metabolism and Heart
Comprehensive blend to target healthy blood lipid metabolism, and support healthy liver function, circulation, and oxidative metabolism.
Formulation Features
Cholesterol Care contains a unique combination of herbs intended to optimize the use and metabolism of lipids and lipoprotein production by preserving liver function and healthy bile secretion. The Thistle herbs in this formula (milk thistle and artichoke) have been used for centuries to maintain healthy liver function. Thistle herbs may also help the liver process lipids to preserve healthy blood flow. Cholesterol Care supports the healthy metabolism of oxidized lipoproteins by neutralizing free radicals through the antioxidant effects of thistle herbs and CoQ10.
Estimated delivery: between 1-2 days in Ontario/Quebec and 1-4 days Canada-wide