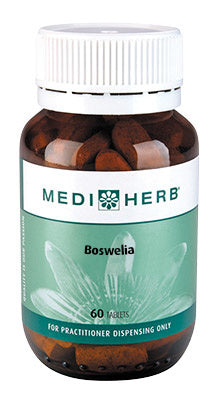 Medi Herb Boswellia Complex 60 tabs
Used to help provide temporary pain relief and inflammation from arthritis, osteoarthritis and rheumatism.
Boswellia Complex contains Boswellia, Celery Seed, Ginger and Turmeric. These herbs provide many phytochemicals including triterpene acids (especially the boswellic acids), several essential oils (one of which contains terpenes and phthalides), coumarins, flavonoids, pungent principles (including gingerols) and yellow pigments referred to as diarylheptanoids (including curcumin). This tablet contains two herbs with standardised levels of key phytochemicals to ensure optimal strength and quality. The Boswellia component is standardised to contain 180 mg of boswellic acids per tablet, and the Tumeric component contains 70.4 mg of curcuminoids per tablet.
Each tablet contains:
Boswellia serrata (Boswellia) gum oleoresin: 1.9 g
Curcuma longa (Turmeric) rhizome: 2.0 g
Apium graveolens (Celery) seed: 1.0 g
Zingiber officinale (Ginger) rhizome: 300 mg
Adults: Take 1 tablet 2 to 4 times daily.
Estimated delivery: between 1-2 days in Ontario/Quebec and 1-4 days Canada-wide