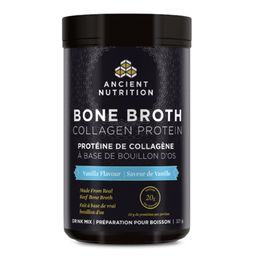 Bone Broth Collagen Protein - Vanilla 321g
Get the health benefits of bone broth in a nourishing collagen powder that is smooth to blend, convenient to use and easy to digest.
Bone Broth Collagen Protein is free of common allergens and the ideal protein source for those who are sensitive to dairy, grains, eggs, nuts and legumes.
Features:
High in Protein
Gut-Friendly
Paleo-Friendly
No Sugar Added
Suggested Use: Adults take one heaping scoop (included) with 250 mL of water or your favourite hot or cold recipe.
Ingredients: Beef Bone Broth Powder, Xanthan Gum, Guar Gum, Stevia Leaf Extract, Natural Vanilla Flavour.
Estimated delivery: between 1-2 days in Ontario/Quebec and 1-4 days Canada-wide