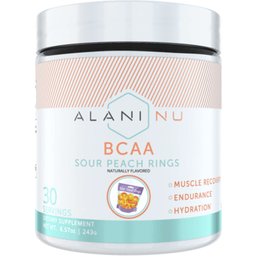 Alani Nu BCAA Sour Peach Rings 243g
Support muscle recovery and get back in the gym faster thanks to our Branch Chain Amino Acids, available in a variety of refreshing flavors! Packed with aminos to aid in workout recovery, our BCAAs are the best way to up your fitness game.

Features:
Source of essential Amino acids for the maintenance of good health
Assists in the building of lean muscle when combined with regular weight/resistance training and a healthy balanced diet
Suggested Use: Mix 1 scoop with 8-10oz cold water for bold flavour or 14-16oz for a lighter flavour.

Medicinal Ingredients: (2S,3S)-2-Amino-3methylpentanoic acid 1.25g, (S)-2, 5 Diamino-5-oxopentanoic acid 500mg, (S)-2-Amino-3-methylbutanoic acid 1.25g, (S)-2-Amino-4-mathylpentanoic acid 2.5g, Potassium 25mg.

Non-Medicinal Ingredients: Acesulfame potassiumm, Beet juice concentrate, Beet root Powder, Citric acid, DL-Malic acid, Flavour, Silica, Sodium chloride, Sucralose, Turmeric.

Caution: Consult a health care practitioner/health care provider/health care professional/doctor/physician prior to use if you are pregnant or breastfeeding.
Estimated delivery: between 1-2 days in Ontario/Quebec and 1-4 days Canada-wide