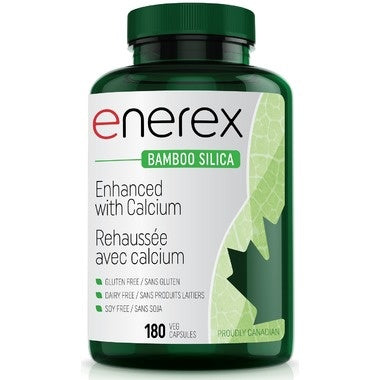 Bamboo Silica Enhanced with Calcium 180 vcaps
Enerex Botanicals Bamboo Silica is pure extract of bamboo shoots that contains 70% organic silica by weight - over 10 times greater than horsetail silica supplements. This mineral helps strengthen and beautify the body inside and out, making it a key anti-aging mineral. It also strengthens arteries, joints, nail, hair, and bones, and helps to heal skin conditions while keeping skin looking youthful.

Directions: Adults: Take 4 capsules daily, 2 in morning, 2 evening or as directed by a health care practitioner.

Medicinal Ingredients:
Calcium Citrate (40 mg elemental calcium)............................200 mg
Bamboo Extract (70 mg silica) Bambusa vulgaris stems ......100 mg

Non-Medicinal Ingredients: Hypromellose (vegetarian cellulosecomplex capsule).
Estimated delivery: between 1-2 days in Ontario/Quebec and 1-4 days Canada-wide