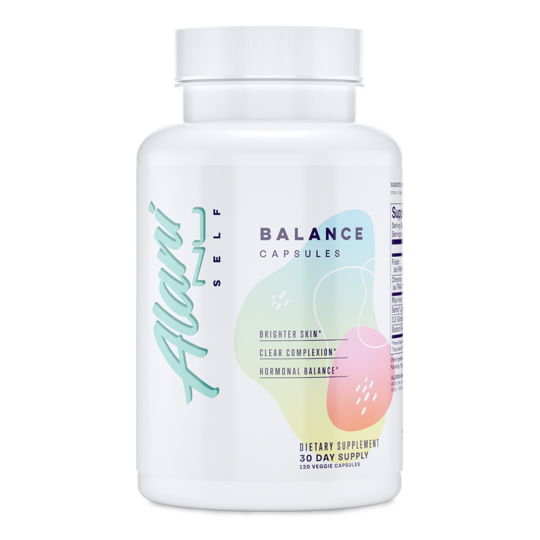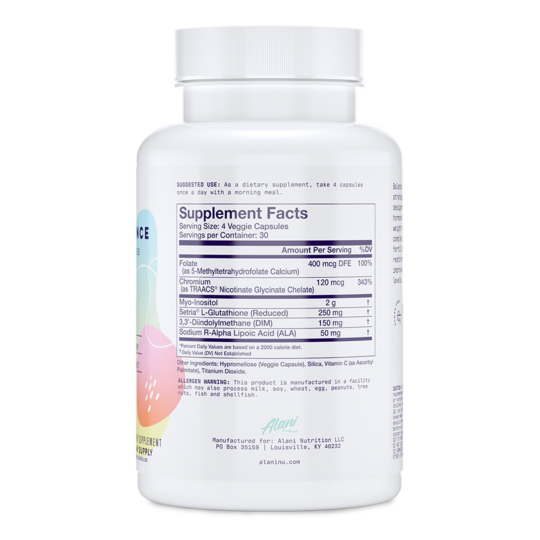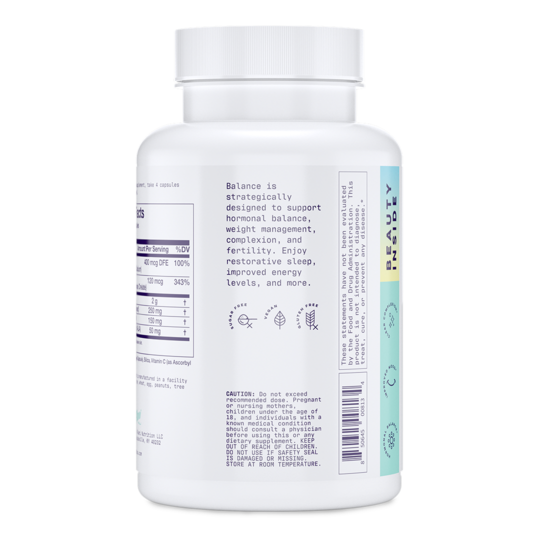 Alani Nu Balance 120 caps
Balance is strategically designed to support hormonal balance, weight management, complexion, and fertility. Enjoy restorative sleep, improved energy levels, and more.
Myo-Inositol- Promotes female fertility and restores insulin sensitivity.
L-Glutathione- Brightens complexion and reduces wrinkles by aiding in hydration.
DIM- Estrogen metabolism prevents drastic increases or decreases in estrogen. Prevents conversion of testosterone in to estrogen.
ALA- Combined with Myo-Inositol has been shown to increase insulin-sensitivity in women who are overweight/have PCOS.
Chromium- Has been shown to improve blood sugar control and decrease weight gain/fat deposition in the mid section.
Folate- Has a positive action in cardiovascular, neural and psycho-emotional health. Some may take this product to become fertile. Folate helps to support fetal development.
NUTRITION FACTS
Serving Size
4 Veggie Capsules
Servings Per Container
30
Per Serving
% Daily Value*
Folate (as 5-Methyletrahydrofolate Calcium)
400 mcg
200%
Chromium (as TRAACS Nicotinate Glycinate Chelate)
120 mcg
100%
Myo-Inositol
2g
**
Setria L-Glutathione (Reduced)
250mg
**
3,3'-Diindolylmethane (DIM)
150mg
**
Sodium R-Alpha Lipoic Acid (ALA)
100mg
**
Other Ingredients: Hypromellose (Veggie Capsule), Silica, Ascorbyl (Vitamin C) Palmitate.
* % Daily Values are based on a 2,000 calorie diet. Your daily values may be higher or lower depending on your calorie needs.
Estimated delivery: between 1-2 days in Ontario/Quebec and 1-4 days Canada-wide