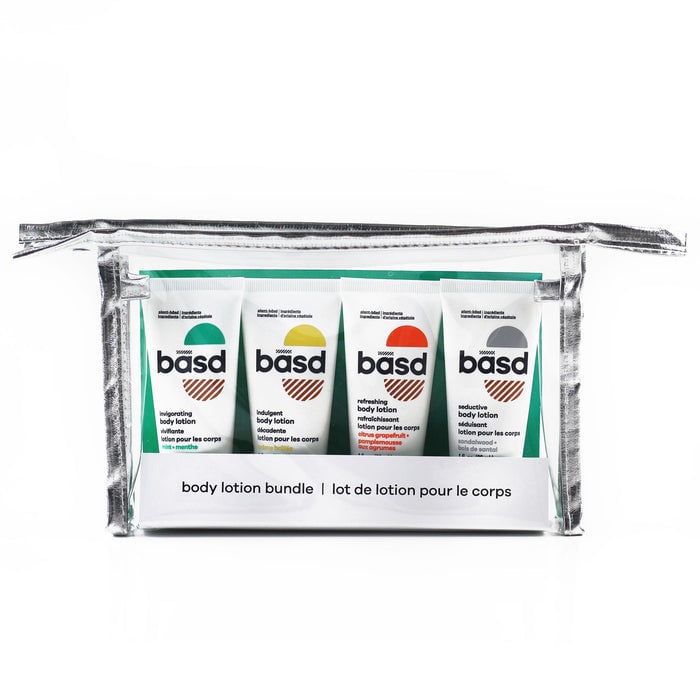 Basd Body Lotion Bundle 4 Pack
our cult-favourite basd body lotion in all four signature scents – seductive sandalwood, invigorating mint, indulgent crème brûlée, and refreshing citrus grapefruit – for one awesome price. the perfect way to try our range of scents or bring your favourite basd body lotion with you on-the-go.
these mini 1 oz body lotions are made with a blend of organic, plant-basd moisturizers that won't clog your pores and will leave your skin feeling silky-soft and hydrated from your badass head to your renegade toes. size doesn't matter when you're smooth af.
what's included:
- 4 x 1oz basd body lotions
- 1 x 8 in. x 1.5 in. x 5 in. travel bag
invigorating mint body lotion
infused with peppermint essential oil, this refreshing mint scent helps awaken your senses and stimulate your mind.
seductive sandalwood body lotion
this warm and woody sandalwood-bergamot scent, with alluring floral and citrus notes and a sophisticated hint of spiciness, is all kinds of luxurious.
indulgent crème brûlée body lotion
infused with orange essential oils and naturally derived vanilla, this subtly sweet and soothing crème brûlée scent is everything.
refreshing citrus grapefruit body lotion
infused with a blend of citrus and grapefruit essential oils, this refreshing and energizing scent is perfect for whatever comes your way.
Estimated delivery: between 1-2 days in Ontario/Quebec and 1-4 days Canada-wide