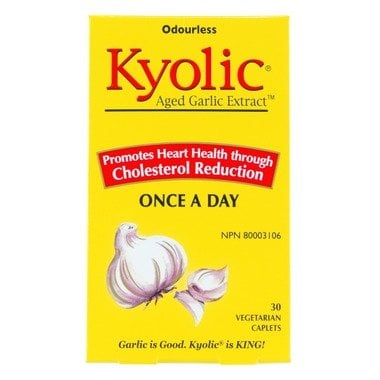 Kyolic Aged Garlic Extract 30 caps
KYOLIC is a unique aged garlic extract powder produced through a proprietary aging and extraction technique that dramatically improves the natural compounds in garlic and reduces the deleterious & malodorous component of garlic, allicin.

Kyolic Aged Garlic Extract has been shown to have an array of benefits, including maintaining healthy cholesterol levels, enhancing circulation, supporting immune function, fighting stress and fatigue to help in maintaining healthy function of the liver and nerves. Impressive benefits backed by research and all without the stomach upset, gas and diarrhea that may accompany non-Kyolic garlic consumption.

All garlic supplements have some nutritional value. However, powders and oils contain little or no water-soluble compounds which may be essential to obtain some of the key benefits of garlic. Garlic powders and oils contain some beneficial oil-soluble sulphur compounds. However, these compounds also have a pungent garlic odor as well as harsh, oxidizing side effects. Even though these products may claim to be deodorized, the garlic odor is just masked by chemical or sugar coatings. When the capsules or tablets dissolve, garlic body odour results.

Kyolic® odourless Aged Garlic Extract, is truly the only odourless garlic supplement. The exclusive aging process eliminates garlic odor and harsh side effects. Moreover, Kyolic® contains various antioxidant properties and is the only antioxidant garlic supplement available. Kyolic is also standardized with SAC (S-Allyl Cysteine), a beneficial water-soluble sulphur containing compound which is characteristic of Aged Garlic Extract.

DIRECTIONS FOR USE:
As a meal supplement, take one Kyolic caplet with a meal. Store in a cool, dry place with cap tight. Keep out of reach of children.
Note: Contains no artificial preservatives, flavours, colours, starch, wheat, corn, soy or yeast. Tablets of this product are suitable for vegetarians.
Estimated delivery: between 1-2 days in Ontario/Quebec and 1-4 days Canada-wide